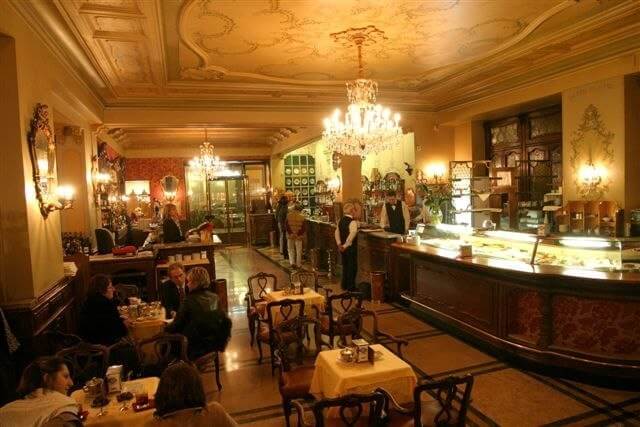 The historic cafés of Turin are part of the city culture and, like the cafés of Vienna and Paris, the cafés here have defined the political future of the country.
It's said that the history of Italy was written in the cafés of Turin, as some cafés became the headquarters for the Risorgimento Movement.
The Best Historical Cafés of Turin
Luxury chandeliers, white and yellow marble and vintage mirrors will welcome you in the historic cafés of Turin. These cafés today are a mandatory stop to taste local pastries and special beverages in an elegant and stylish atmosphere. In these locations you can have some of the best blends of Italian coffee, a bite of the typical Gianduiotti and an aperitif with a tramezzino.
1. Caffè Fioro
The first mandatory stop is between Piazza Castello and Piazza Vittorio as this café has a direct link to the history of the city. Caffè Fioro was founded in 1780 and today it maintains its original layout. This place was frequented by Italian politicians, aristocrats, intellectuals and insurgents. The legend says that Charles Albert used to ask every morning: "What did they say at Fiorio's?" as this was the meeting place of the most influential thinkers of the day. Take your time to try a gelato cup or a coffee.
2. Al Bicerin
In this café was invented Bicerin, Turin's most popular drink. Bicerin, which means "small glass" in Piedmontese, is a drink made of espresso, chocolate and whipped cream. Years ago, in the rooms of Al Bicerin, were regulars costumers were figurs such as Dumas, Puccini and Nietzsche.
3. Baratti & Milano
Originally founded as a spirit shop in 1858, today this café is famous for the delicious Gianduiotti. This typical sweet of Turin is made with chocolate mixed with piedmontese hazelnuts. One famous regular of this café was Pietro Mascagni, the famous author of Cavelleria Rusticana.
4. Cafè Mulassano
Bronze, wood and leather are the main characteristics of this art nouveau-style café. The closeness to Teatro Regio made it a frequent visiting place of the Savoy family and now is a famous stop among artists. Make sure to try one of the many varieties of tramezzini, an Italian type of sandwich!
5. Caffè San Carlo
In the beautiful square of Piazza San Carlo, this café played an important role during the Risorgimento and became frequented by artists and important personalities. Try one of the blends of tea or coffee and if you want a sweet, try a slice of one of homemade cakes and pastries.
6. Caffè Torino
You will recognize Caffè Torino among the other cafés in the city for its beautiful Belle Epoque atmosphere. Here you can drink a proper Italian coffee and have a great dinner.
7. Caffè Piatti
Originally founded in 1870 as a liquor shop, it became the main meeting café for intellectuals and writers including the founders of Fiat and Lavazza.